203K Mortgages – A Real Story About Real People
With a growing family, Rob and Megan wanted to find a larger home in their current neighborhood. But four-bedroom homes under $200,000 were hard to come by in their area, this year, because fewer properties are for sale.
When they saw a 2,100-square-foot home that needed cosmetic repairs this fall, it was an opportunity the family could not pass up. So they worked with their real estate agent and lender to secure a FHA 203k loan.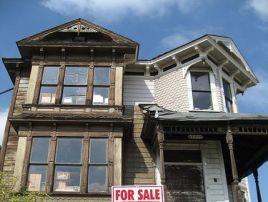 The FHA 203K loan is a rehabilitation loan that enables a home buyer to finance the purchase of a house and the cost to rehabilitate it through a single mortgage. The loan can be used for minor repairs or a near reconstruction, as long as the foundation remains in place.
Rob and Megan knew they were not handy people. Plus, they both work and have a young child, so taking out a 203k loan was appealing.
"We weren't looking for a fixer-upper," says Rob, 36. "We saw a lot of potential in this home."
This weekend, the family is moving into the home after two months of renovations. It now features a play room for their son, both bathrooms have been updated, and the home's kitchen — which had a 50-year-old stove — has been entirely redone.
The FHA 203k loan is available to borrowers looking to buy in moderate-income neighborhoods or whose income is at or below 80 percent of what HUD estimates to be the median income for the area. For those buying a home in need of a lot of updating, the 203k allows buyers to borrow all the money needed up front to complete the work. Most of the qualifications are the same as those for a conventional or FHA loan.
Rob and Megan took out a 30-year streamlined FHA 203k loan to fix up their home; the streamlined loan is for non-structural repairs costing up to $35,000.
There are some restrictions with the loan. The rates are about a quarter percentage higher than conventional loans, and the buyer does have to pay mortgage insurance. Also, an appraiser completes the appraisal after the property has been renovated.
They closed on the 203k loan and the home in October for a purchase price of $121,000 plus the additional loan amount for the renovations. The home is currently assessed at $177,000.
If you are interested in finding out more about this loan program, contact us anytime! We would be happy to fill you in on this great mortgage program!
DISCLAIMER: Neither Indiana 203K Mortgages
(Indiana203kMortgages.com)
nor Luminate Home Loans is affiliated with any
government agencies
, including the
FHA
.